Click here to visit Once Upon A Caper.com

Created and written by Rod Hannah.
Once Upon A Caper is a modern day fairy tale in spandex and a cape.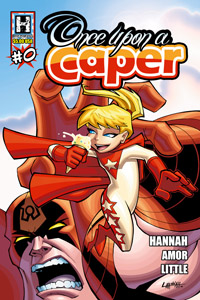 On her eleventh birthday in 1954, Russian born Sovena mysteriously gained godlike super powers. Since that day, she has dedicated these amazing abilities to protecting the innocent and defending justice. However, there was one small catch…
Once Upon A Caper is currently a stand alone issue only. If we receive enough interest we will look at a Kickstarter project.
Once Upon A Caper Character Sketches by John Amor.