I've been meaning to give an update on things all month, but I've had so many tight crunches with projects in the thick of production or wrapping up that I realized the blog was about to miss August completely! Fortunately, the work load has lightened, a little.
First off, John Amor (artist for Sovena Red #1 completed all 22 pages last week and Paul Little (Sovena Red colorist) finished coloring all of them. John is working on a cover as well as a possible back cover or pinup, and I'm starting on the lettering. The goal is to have some promotional copies at Baltimore Con 2009 (which is October 9th).
Check out the color page samples below…

Also, I've just completed my third article for the awesome Bryan Glass and Michael Oeming comic series The Mice Templar, as well as an article about the 1985 animated film Starchaser: The Legend of Orin for James Eatock's Cereal Geek magazine.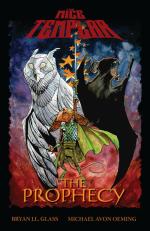 When it comes to writing the articles for The Mice Templar I've been really spoiled. The subject matter depends on the mythic parallels to themes from The Mice Templar story, and as I love history and mythology the research aspect of the articles is enormous fun.
As for the Starchaser article for Cereal Geek, I was not only surprised at how much I enjoyed watching the movie recently, but I felt the need to offer a rebuttal both to the critics who cry Star Wars plagiarism and to my childhood self who thought the same way as those critics. What changed my mind about the movie? I think a combination of being older and able to appreciate the differences in the themes from Star Wars, and also perhaps a slightly more open mind, removed from the height of Star Wars mania in the mid 1980s.
I've continued to push forwards without interruption on the Blue Milk Special webcomic, along with my fantastic wife, Leanne Hannah. We've earned our first review this month from Dan Stryker's The Great Big Nerd blog. It was full of positives and so we were both delighted to have someone enjoy analyzing the care and thought that makes up our creative process.
What else am I working on? I have various story ideas floating around in my head–all of them screaming at me to pick them out over their rivals and work on them. However, I just don't have the time right now, so I'm putting them in storage. I do have a collaboration comic project in development with my friend Matt Wieringo. It's zombie related, but its also attempting to rejuvenate the cliche of the genre and do something new with it. More on this soon…