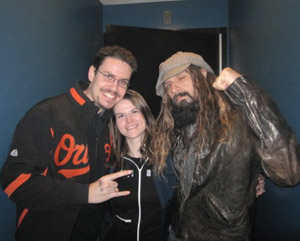 Our friend Rob Zombie is working on a new comic project called "What Ever Happened to Baron Von Shock," and my wife, Leanne Hannah is in the editor role once again. Leanne worked with Rob on his Spookshow comic series for Image in 2003-2004 which featured many iconic characters from his twisted imagination, including many named after his songs. Comic Book Resources recently put up an article on Rob's El Superbeasto animated film, the trade publication of Rob Zombie's Spookshow and his new Von Shock project. Leanne was quoted a few times. Check it out here:
http://www.comicbookresources.com/?page=article&id=23501
But something much, much cooler was meeting Rob in Washington DC before his last performance of his 2009 tour. Rob took great care of us and spoiled us rotten with VIP tickets at the 9:30 Club where he was playing. While the support acts, Captain Clegg and the Night Creatures, along with the Nek-Romantics were great, Rob blew everything out of the water with a huge performance for such a small venue. It kicked off with an excerpt from the El Superbeasto animated film with the titular hero and the his ass kicking sister, Suzi X (voiced by Rob's beautiful and talented wife, Sheri Moon Zombie). Special guests included a giant Marvin, and later a giant Reaper / Creeper. The true test of my fandom is that I can't name the latter character if it in fact is a character. Sorry Rob!
Here's looking forward to Rob's new comic, "What Ever Happened to Baron Von Shock".