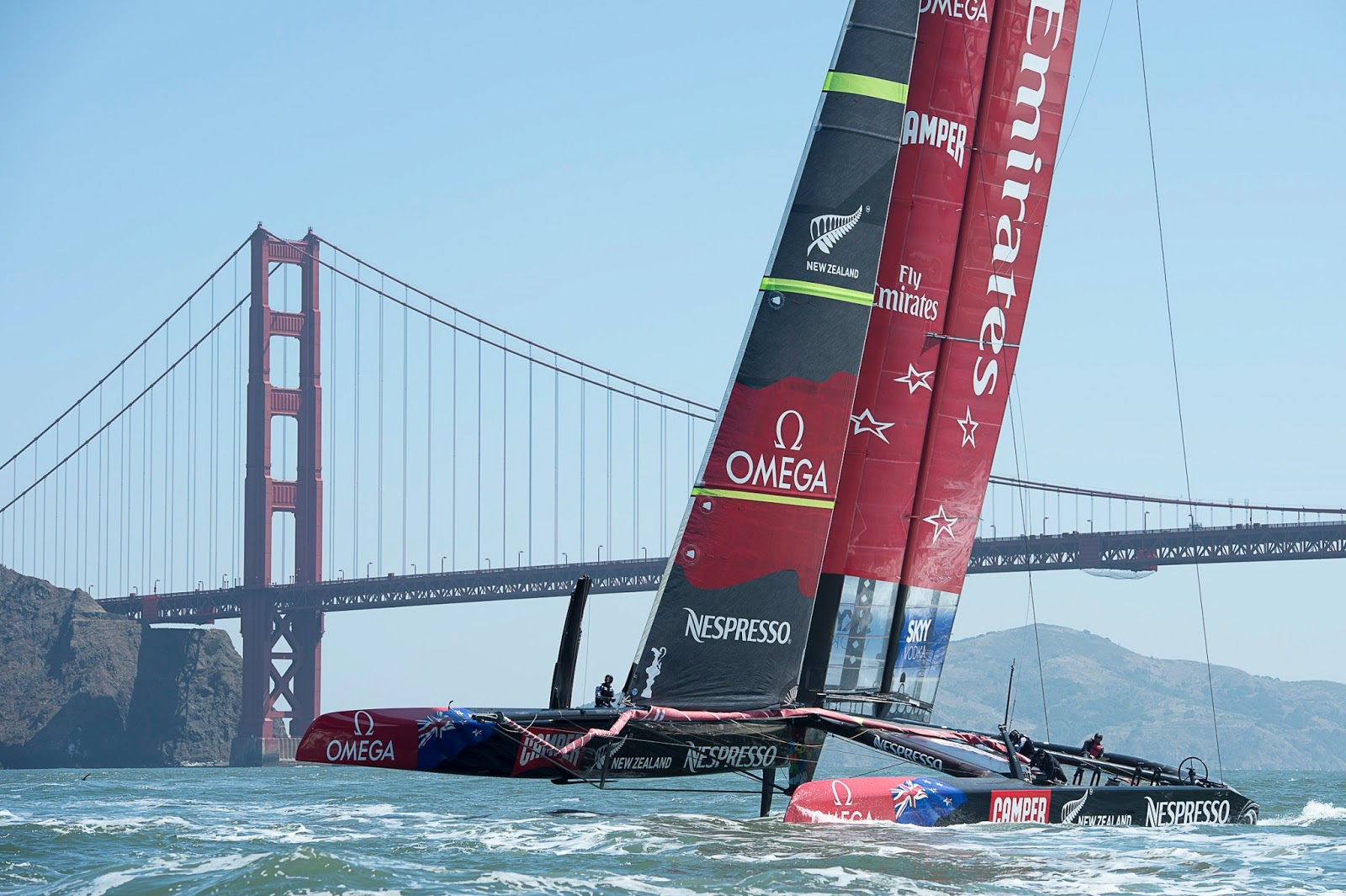 Other than the unspoiled, dramatic landscapes, there are two things New Zealand is known globally for. Peter Jackson's Lord of the Rings and the All Blacks international rugby team. They put NZ on the map. Made people aware that, metaphorically, there's a quite handsome kid standing in the shadow of Australia. But a good deal of NZers seem to think there is a third: the America's Cup. And they are wrong.
Most people over here in the USA don't know what the America's Cup is. In the last month, it seems practically the whole of New Zealand have suddenly become huge sailing fans again, so long as it looked like we would win the America's Cup yacht race over the last couple of weeks. The fact is that when Emirates New Zealand lost to Oracle Team USA the other day, it was the first time it even got any air time on the radio over here, and that is simply because of the amazing comeback which is impressive from a historical sporting point of view. Outside of San Francisco, the America's Cup is almost completely unknown.
My mother called me from NZ last weekend. She told me that while she was shopping at a department store, the music was interrupted by an in-store announcement that Team New Zealand had won the latest race. A cheer went up throughout the store. New Zealand is obsessed. But why?
It's a sport for yuppy yachting circles. The NZ government had to pitch in to just compete with the American sponsors of Team USA. Although Emirates played a financial part too. It's not a particularly noble or heroic stage to gush with national pride over. The perception that NZers seem to have of this being a prestigious event that shines a global spotlight on NZ is really misplaced. Perhaps, my being outside of NZ for so long has helped me see that. But what pisses me off is the attention this fair weather fandom takes away from other, more deserving things. It sucks the air out of the room.
Our boys, the All Blacks, are over in Argentina for this weekend's clash, and South Africa a week later. In Argentina we build NZ and rugby as a brand, and continue to build on worldwide audiences who tune in to watch the cream of the rugby crop. These guys represent NZ on a global scale and carry the brand of NZ on their backs, and have been doing so since 1903. Rugby is a global sport and the All Blacks are NZ's ambassadors. Working men, whose blood, sweat and sacrifice both on the field of play and the field of battle in World War I, should command more respect and admiration than a yuppie yacht race ever can.
I get that yachting is another area of expertise to be proud of, but the America's Cup is elitist, no matter how much you try to play up the "little man" aspect of Team New Zealand. Money was spent on both sides. Lots of money.
NZ crew members were counted among both Team USA and NZ, so perhaps the patriotic nod is in name only. NZ's maritime engineering, essential to the design of both yachts, has won big, and that's all that really matters. Part of me is glad NZ lost so that all this hype and expectation can get a reality check back home. I think this groundswell of bandwagoneering is really shortsighted. NZ needs to stop craving attention like the kid waving his hand at the back of the crowd and realize that some battles don't earn the accolades they believe.