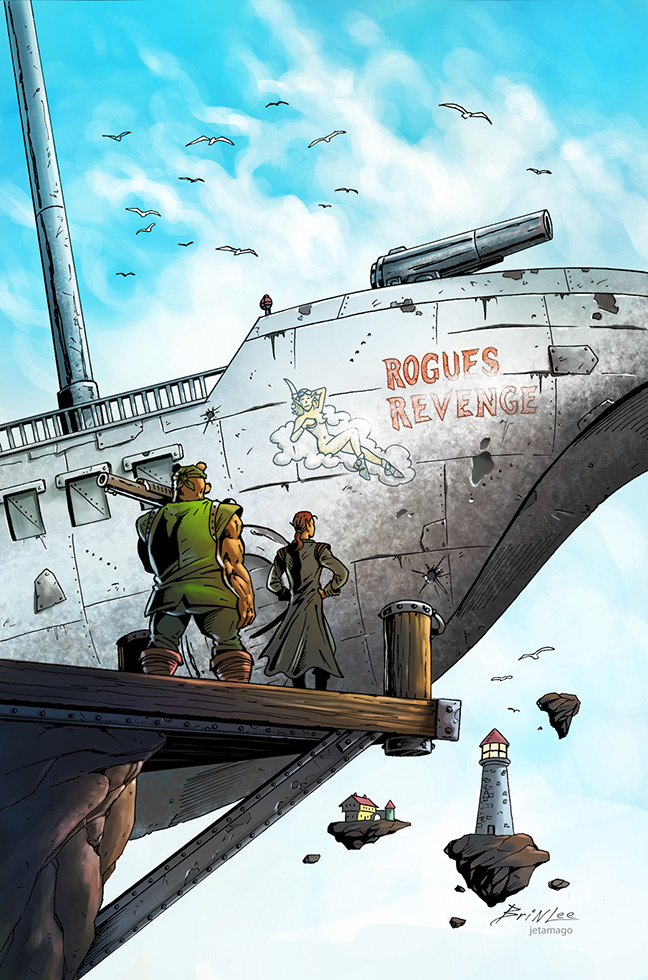 Another update so soon? Here's a great opportunity for you guys to commission that picture you've had sitting in your head for the last year. Friend and collaborator Brian Brinlee is now taking commissions!
Brian Brinlee has been a penciler for the past few years on an indy title called Sky Pirates of Valendor by Jolly Rogue Studios. Sky Pirates recently completed its first series and is now available as a collected trade, as well as an anthology. While Brian is currently working on the second series, he has also illustrated for the Comicbook Artists Guild in their Iconic anthology as well as several covers, pin-ups, and books for various self-publishers.
"Sky Pirates of Valendor recounts the adventures of Pirate Captain Tobin Manheim and the rest of the crew of the Rogue's Revenge. Set in the fantasy world of Valendor where giant continents float on oceans of sky! A mix of steampunk and high fantasy where magic co-exists with futuristic technology, Valendor is a fully realized world, with complex social structures, a guild-driven economic system, and a host of political intrigue."
As fellow fans of the fantasy genre Brian and I are currently working on zombie slaying gunslinger comic called Runeslingers. Previews will start appearing in the coming months as we get closer to completing the first chapter. In the meantime, don't miss your opportunity to take advantage of the window in Brian schedule for commissions. Check out Brian's beautiful work over at DeviantArt.