As my last post of the year I wanted to give everyone an update on recent events. In a nutshell, 2011 has been an interesting year. 7+ years of marriage and more deeply in love than ever before is always a good sign. While my health issues have hindered the progress of my writing, I am more determined than ever to debut some of my stories in 2012.
I have chronic sinusitis, despite surgeries and treatments, however this is unfortunately coupled with a herniated cervical disc. The neck pain caused by the disc herniation extends to my arms and hands and has flared up frequently to the point where it is difficult to type. Just three weeks ago my neck got so bad I could hardly stand without severe pain and worried I was not going to be able to move again. Fortunately, after three days of narcotics and rest I started to see the light. I'm now wearing a neck brace most of the day and have spine surgery (anterior cervical discectomy) scheduled for January 9th which will put me out of work for at least 3 weeks. I had no other option but to take unpaid family medical leave so there's that added financial tension. Despite all this, I'm enthusiastic about the projects currently in the works. First, an update on our most recent convention appearance…
Richmond Comic Con Report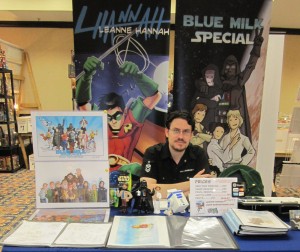 Leanne Hannah and I attended Richmond's Virginia Comic Con in October where we met fans and introduced some new readers to our work. This was our second appearance at the Virginia Comic Con in three months and while it is a small show, the staff and attendees are very welcoming. We were interviewed as a husband and wife team by a gentleman and camera crew, though his details appear to be lost so who knows where it will end up.
I do not expect we will be doing another Virginia show for sometime, however. We really need to tighten our purse strings and be more strategic in our convention appearance planning in 2012. For all those that met us in Virginia, thank you for your hospitality and kindness. A special thank you to Matt and Suzanne Wieringo for giving us a wonderful place to stay and without whom the weekend would not have been nearly as enjoyable.
Matt has an amazing indie comic in the works called The Hand Me Down Horror. Absolutely amazing stuff and I genuinely can not wait until the art is finished. It might be a long wait, of course. Day jobs are a bitch.
MY CURRENT PROJECTS: UPDATE
While my manga project with Leanne Hannah remains untitled for now, the first concept art has finally begun and Leanne will start work on the 3 page prologue in the next couple of weeks. Leanne has also updated her site with an end of the year blog and our Christmas pinup for Blue Milk Special. I will post some previews in the next month.
As reported previously, pages from Brian Brinlee are coming in for our Runeslingers project. We will soon be ready to engage a colorist and are currently reviewing submissions. Thank you to everyone who has contacted me about the colorist position so far. We should have some preview pages in early 2012.
The Adeline project with artist Danielle Ellison is still in the design phases though the first batch of pages should be completed early 2012.
Happy New Year! Best wishes for 2012!