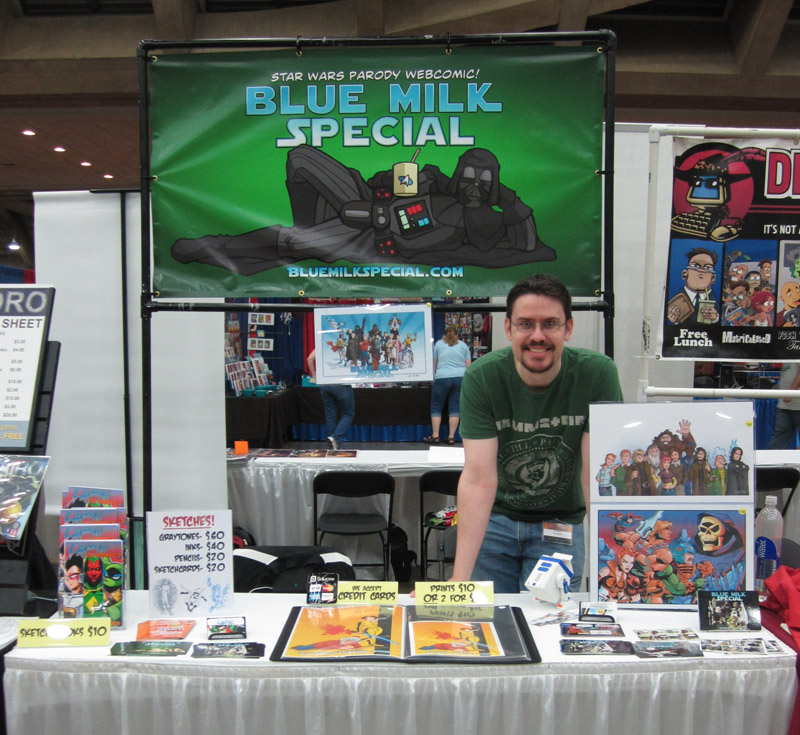 The best thing about going to comic conventions is not only meeting the fans, but meeting people whose eyes light up when they see our work or hear about what we're doing. The highlights are those moments when someone reads a strip for the first time and bursts out in laughter; Moments when a wide-eyed kid, barely tall enough to see over the table, exclaims how "AWESOME!" your wife's art portfolio is, with all their raw honesty and exuberance; When the guy who commissioned a sketch returns to pick up Leanne's work and his reaction is so enthusiastic that he literally gets goosebumps! Seriously, he pointed it out. Sure enough, hairs were raised! Wow!
These moments at a show are the things that stick with you for a lifetime and keep your tank from hitting empty during an exhausting couple of days under the oppressive bright lights and long, hungry hours of a comic-con. Having any kind of positive impact, on anyone, is a wonderful feeling. In this sense, comic cons can be that moment when personal motivation and self-assurance receive a boost. I'm not meaning to imply the show was some sort of praise-athon, because there are always negatives too, but hey! Certain moments are going to stick with you forever.
Baltimore Comic Con is the largest of our "local" comic cons and so we make a habit of attending each year. However, this was the most difficult show Leanne and I have ever exhibited at. We were both sick last week and arrived at the show in a pretty bad way. This is also the first show I have attended post spine surgery and the cheap hard plastic chairs and concrete floor was practically murder. Jacked up on pain pills and trying to survive a show that had been extended to 7 PM on Saturday night was tough. Trying to have a chipper greeting and smile for everyone who came up to see us was even harder. For those that met me, if I looked like I was going to faint, I might not have been far off. We cut short our usual evening socializing and crashed in our hotel room as soon as we could. It couldn't be helped, and my spine and hand problems are a new challenge. I had a bit more color in my face on Sunday, but wow… will there by many cons in my future? Not so sure. I feel like I've aged 20 years. Later this week, or next week, we will set up a store of some kind for Leanne's Sketchbooks and prints. This is just in case non-convention goers and geographically challenged fans would like a piece of the action. All sketchbook purchases will get a promo card thrown in free, and the first few will get a bonus reclining Vader promo card and "It's a Frapp!" thrown in while supplies last. We have only a handful of these original promo cards left and have no plans of further print runs. Our new promo card features the bounty hunters posing with Vader (see previous blog posts).
Leanne completed some really nice sketches while at the show. Included are a couple of Blue Milk Special related requests. We also debuted our new horizontal banner display, built using PVC tubes for the first time. The banner was courtesy of Beltsville, MD Signs By Tomorrow, who I can not praise enough for their generosity and professionalism. We did forget our blue table throw, so we were stuck with the default white table and white skirt. Not a big deal really. We're not terribly serious about sales at any of the shows we've done. We both have day jobs that pay the bills and conventions are promotional investment as well as a chance to meet old and new friends. We have never had any financial goal beyond attempting to cover the table cost and some of our expenses. That said, many fellow exhibitors told us that Baltimore Comic Con 2012 seemed a lot quieter than last year and we could not help but agree. Some people had almost no business at all.
Why? I can't really say. Last year was an amazing Saturday, but a dead Sunday. This year was an okay Saturday and a quiet Sunday. Was everyone broke? Is the economy hitting geeks a little harder this year despite supposed improvement elsewhere? Was it the bad weather on Saturday? We did okay, but I definitely feel like we need to find new avenues to explore and eventually Book Fairs (more on this in a couple of months re: our non-BMS projects).